Bike Rigs + Dolly Rigs
This page is a work in progress!

Be sure to check out the other pages, especially Speakers and Power to get more info.

There are three general approaces to wheeled systems on bikes or carts.

Difficult, very loud, great battery life Battery, Automotive Amplifier, Passive Speakers
Easiest, can be very loud, best battery life: Battery powered all-in-one speaker
Pretty easy, very loud, poor battery life: Battery, Power Inverter, Wall Powered Speakers


Our big bike rig uses the second approach, pictured, is incredibly loud, but due to the metal folded horn, it sounds like Pete Seeger folk music.
It consists of a huge horn set to 16 ohms, much like this one, wired to a automotive amplifier and a small usb powered mixer, a small sealed lead acid battery as well as a car stereo, and amplified antenna. Total cost (trailer was free on graigslist) is about $250
The stereo is just they get fantastic radio reception, and we make heavy use of FM transmitters at large demos.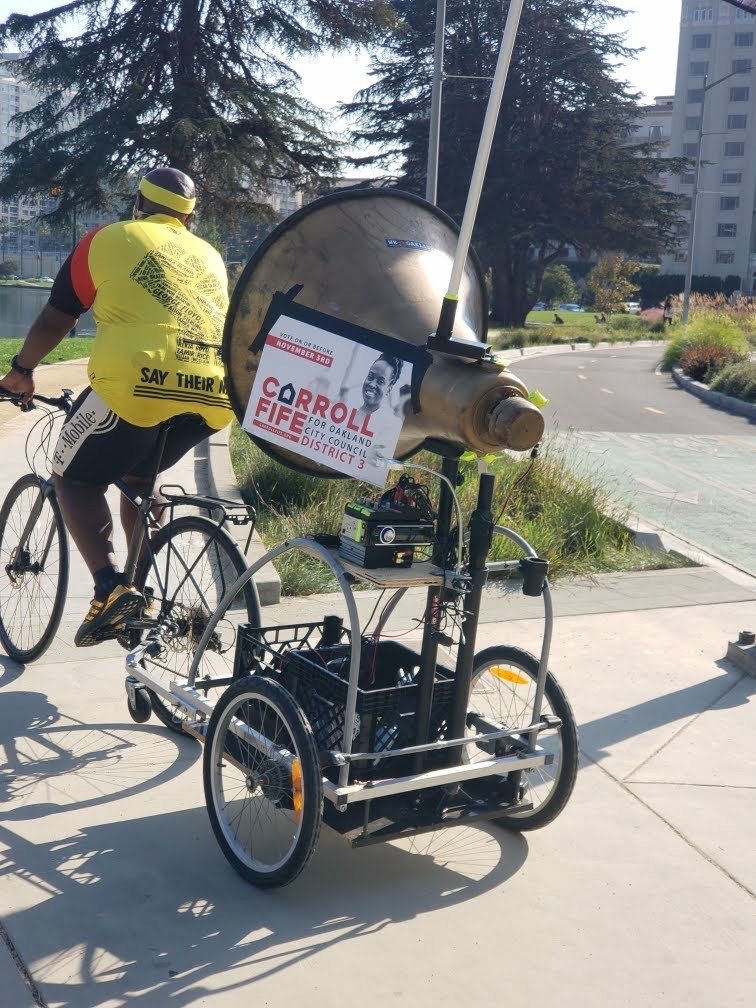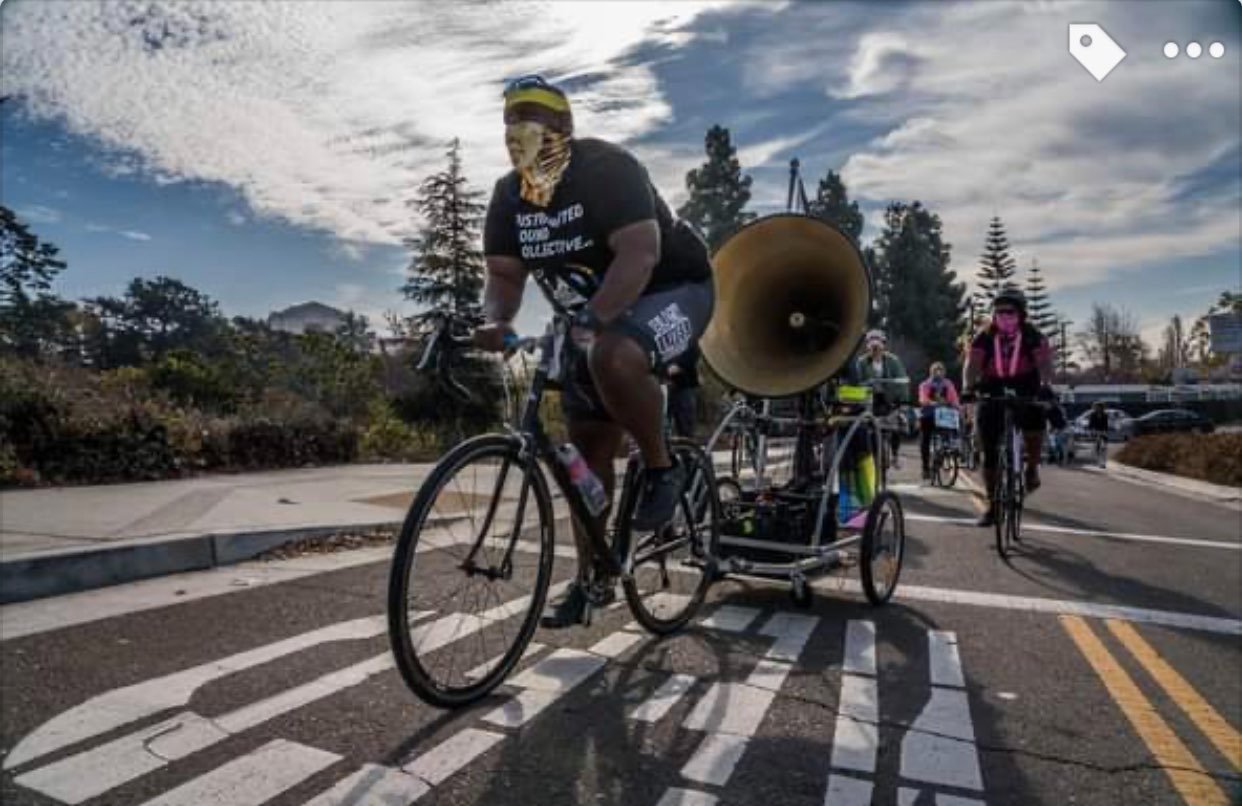 Other great options for passive speakers to usue with automotive amplifiers are
marine speakers(waterproof and often enclude a cabinet and mounting hardware)
any passive speaker, including outdoor speakers like these
or indoor passive speakers like these pictured below on a higher-end bike with a subwoofer an 900w marine amplifer and lithium natteries to save weight.




This meme guide, posted by the wonderful PortlandSoundBloc oulines a lot of great options! The Soundboks is a $1000 very loud incredibly efficient speaker that is a great choice if you can afford it and want an all-in-one solution. Note the USB mixer is not needed if you get a good dynamic microphone, such as the Shure SM58S (the switch is a very good idea for the demonstration environment)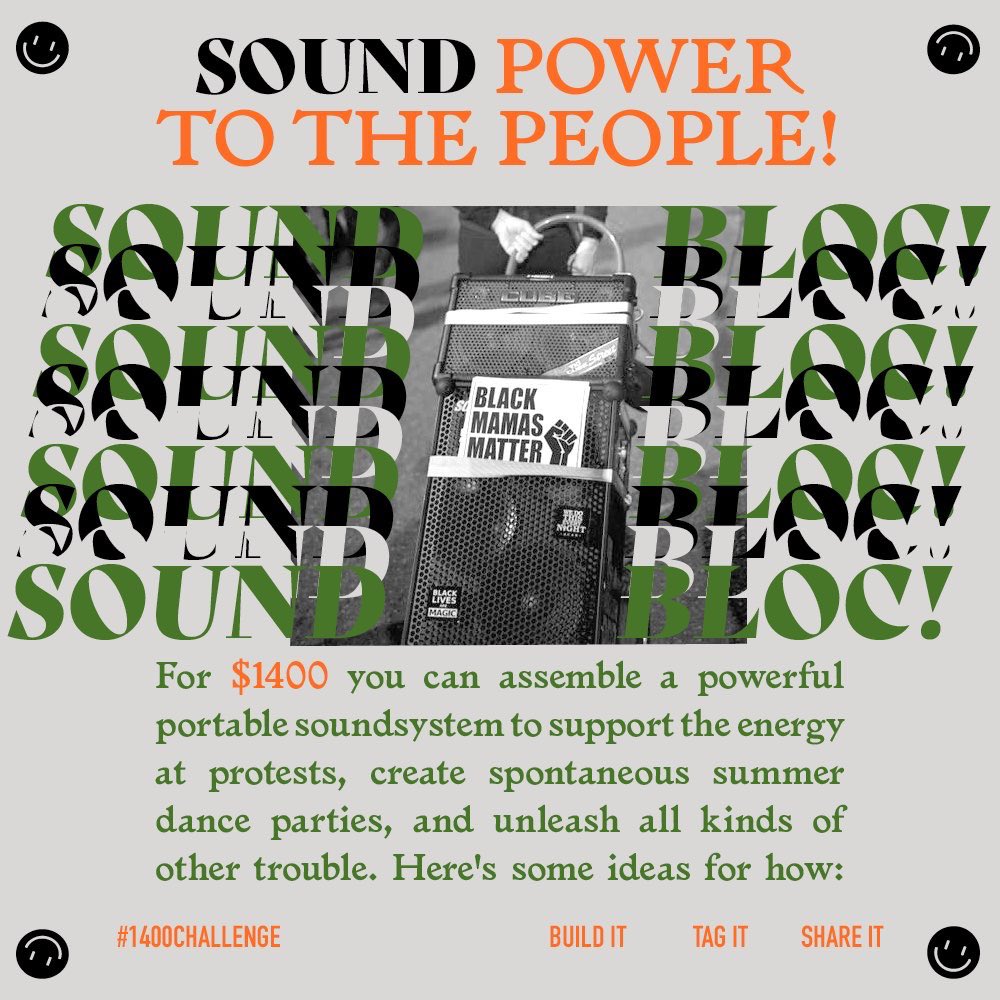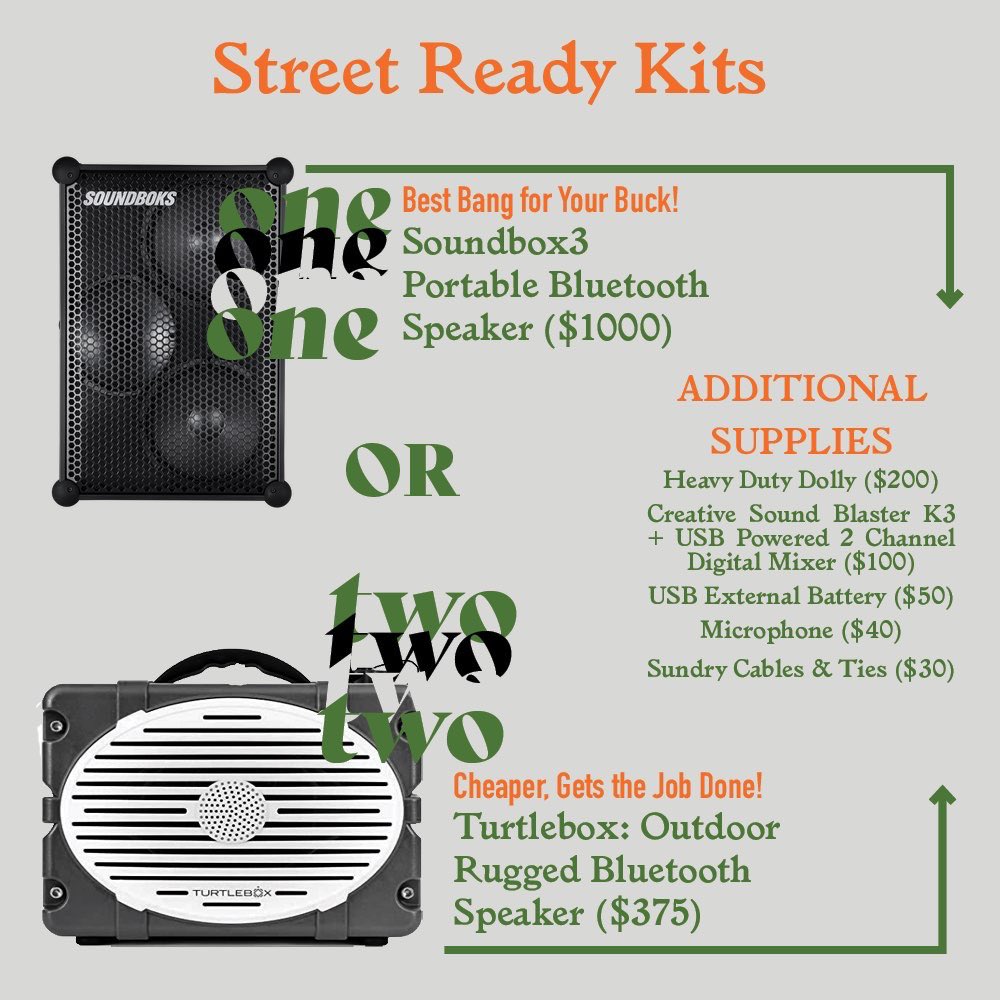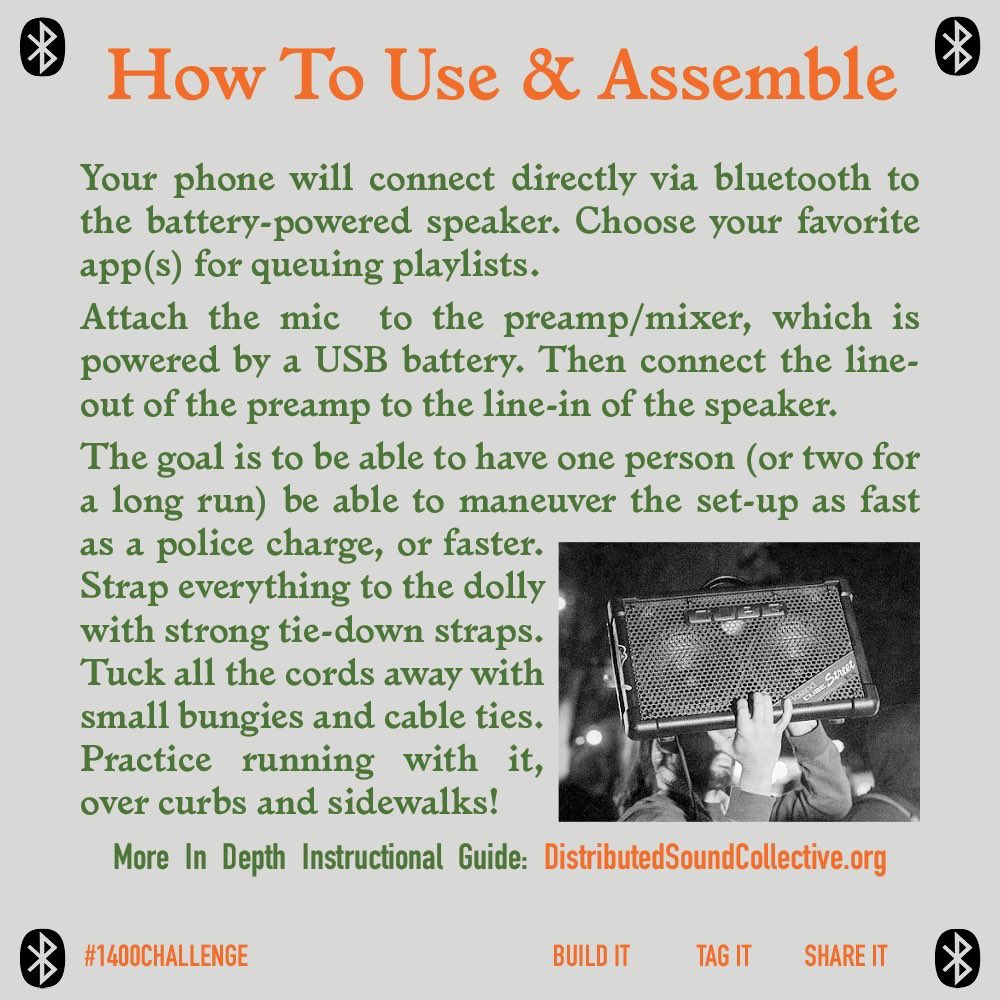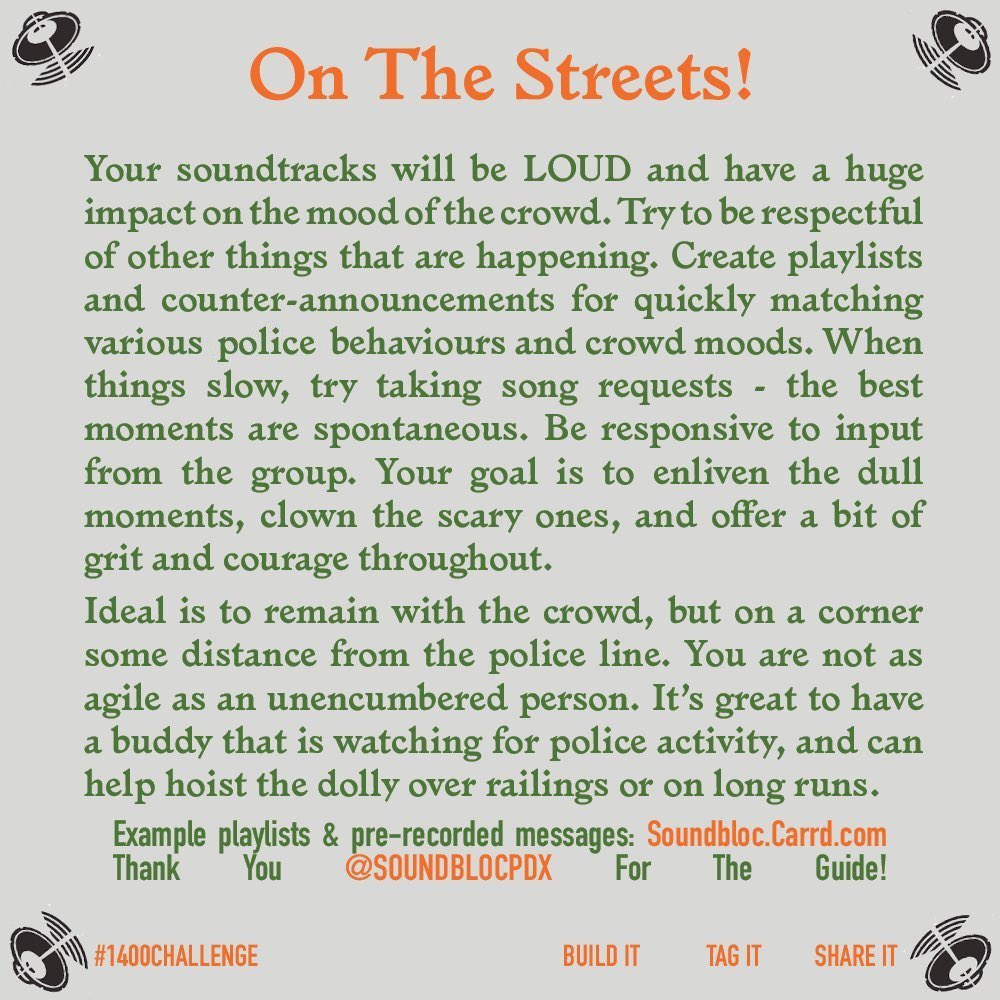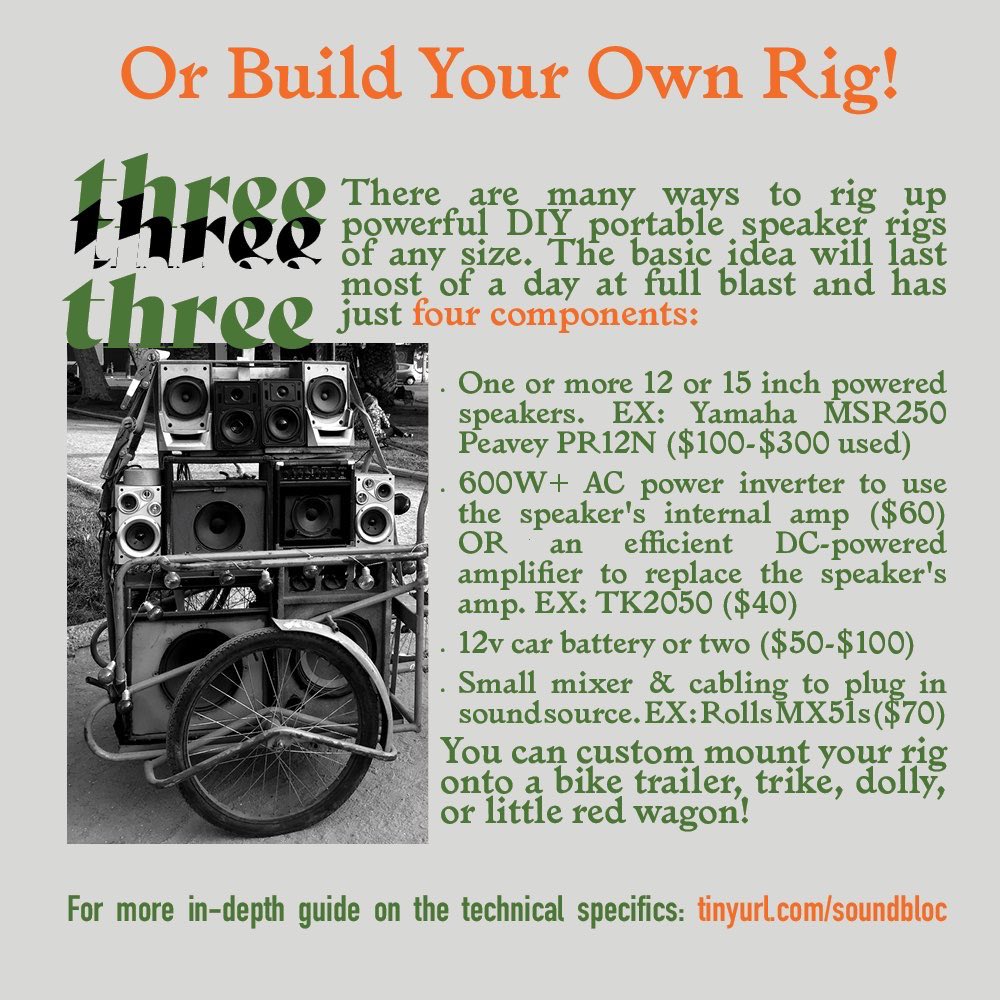 Here is a very advanced tutorial on how to make your own high-effiecency portable speaker rigs (soldering, undrstanding og DC power systems needed) It includes a great tip about using a bi-amp set up to save power,a nd a detailed low cost breakdown of how to save money and power.





Here is a pasted list of everything in our bike rig


We hope to clean this page up soon.
Here is a rough approximation of what is on the sound trailer behind the bike

Parts Express is a great resource, they have very knowledgeable tech support and very good prices and are more reliable in my experience than ebay and presumably less evil than amazon.

I call them whenever I am stuck




20" 100w Horn

100w in a horn is a lot louder than 100w in a regular speaker since there is no bass, it cuts off at around 400hz, making it perfect for voice and very old-fashioned sounding for music.


It Can be set to 16 ohm for use with regular or car amplifiers. Also works with 70 volt systems, which I think in this case we should avoid.


https://www.parts-express.com/pyle-phsp20-195-100-watt-pa-horn-speaker-70v--248-4434



This is the amplifier I am using, out of stock.

A 400-watt amplifier rated at 4ohms can deliver 100watts to a 16 ohm speaker.

Most amplifiers lie about the rating, RMS ratings are often more honest.

https://www.parts-express.com/timpano-audio-tpt-4002-2-ohm-400-watt-2-channel-car-audio-amplifier--294-3050

It might be possible to blow the horn by giving it too much bass, which it can't reproduce anyway. This amp has a high-pass (low-cut) filter setting.




This is the mixer (with mic pre-amp) I am using, it is horrible quality but sounds ok in this situation.

https://www.parts-express.com/talent-mix-r-3-channel-4-in-2-bus-compact-portable-stereo-mixer-with-usb-audio--20v-phant--233-120

If you can spare the $, I would for sure get the behringer version instead: (low stock)

https://www.parts-express.com/behringer-xenyx-302usb-premium-5-input-mixer-with-xenyx-mic-preamp--248-6614 or https://photosavings.com/products/behringer-xenyx-302usb-5-input-mixer-and-usb-interface-accessory-bundle-w-cables-fibertiqe-cloth?utm_medium=cpc&utm_source=google&utm_campaign=Google%20Shopping


The mixer is USB powered, which is great.


I have the mixer running off a USB-car adapter

https://www.parts-express.com/usb-quick-charge-30-type-c-car-charger-with-led-display--125-383



All this is plugged into a 35 amp-hour sealed deep cycle battery

https://www.parts-express.com/power-sonic-ps-12350nb3-sealed-lead-acid-battery-12v-35ah--140-374

A car battery could work too, just never drain it past 10.5 volts or you can damage it. A pain to baby sit.

I would recommend instead using something lithium and self-managed, dealing with raw batteries is a huge pain (not draining too far, no screen, etc)

I have had good luck borrowing battery banks from people who camp, things like this:

https://www.jackery.com/products/explorer-240-portable-power-station

(you want at least 240wh (watt-hours) which if you are using 80 watts of real power, will give you 3 hours.



CABLES


For power wiring I cut two of these so the battery had an outlet and the usb-car adapter is plugged in to an outlet wired near the amplifier.


USB Adapter

Battery ==== socket plug======================Socket=========Car Amp

(Like above)

https://www.parts-express.com/10-amp-heavy-duty-cigarette-lighter-extension-cord-16ga-6-ft--265-232


To plug a phone/iPod into the mixer

https://www.parts-express.com/parts-express-35mm-slim-plug-male-to-2-x-rca-male-adapter-cable-10-ft--240-066


I would always have one of these in case someone with an iPhone wants to DJ or if you wanna hook up a call-in person

https://www.parts-express.com/apple-mfi-certified-6-lightning-to-35mm-headphone-adapter--130-625


Cheap Mic

https://www.parts-express.com/pyle-pdmic59-professional-handheld-unidirectional-dynamic-microphone-with-switch-15-ft-c--248-4726


I always have one of these on the mic so the mic stand up better to being sprayed with alcohol between users (see video for sani strategy)

https://www.parts-express.com/microphone-windscreen-foam-dark-gray--242-030



Even though the mic comes with a cable, i would get a XLR-XLR cable for better quality

https://www.parts-express.com/peavey-pv-25-ft-low-z-mic-cable--241-5660


I would get longer than you think you need for the XLR cable as feedback is a huge pain on these horns and you want to get folks far behind the emitter.



Speaker Pole

(mounted to trailer with U-bolts and a large drilled hole)

https://www.parts-express.com/gator-frameworks-gfw-spk-sub60-adjustable-subwoofer-pole--242-8080


Speaker pole adapter(plastic, maybe spring for a metal one)

https://www.bhphotovideo.com/c/product/400170-REG/On_Stage_EB9760_EB9760B_1_3_8_Speaker_Stand.html
Like this one https://www.parts-express.com/atlas-sound-ssa7-platform-mount-for-1-3-8-dia-tripod-speaker-stands--242-179